'Findings released for the first time by the Nuclear Test Ban Treaty Organization — which operates a network of sensors that monitors Earth around the clock, listening for the infrasound signature of nuclear detonations — confirmed that between 2000 and 2013, 26 explosions on Earth's atmosphere were detected, ranging in energy from 1,600 kilotons — all caused by asteroid impacts. To put it in perspective, the atomic bomb that destroyed Hiroshima in 1945, exploded with an energy impact of 15 kilotons. While most of these asteroids exploded too high in the atmosphere to do any serious damage on the ground, the evidence is important in estimating the frequency of a potential "city-killer-size" asteroid. The Earth is continuously colliding with fragments of asteroids, the largest in recent times exploding over Tunguska, Siberia in 1908 with an energy impact of 5-15 megatons (24 April 2014)'.
The B612 Foundation is an organisation founded by astronauts Ed Lu and Rusty Schweickart, their mission is to "to find a way to stop dangerous asteroids from impacting Earth after seeing our fragile blue planet from space".[1] And, explaining the issue at hand, the dedicated FAQ webpage explains that the "B612 Foundation is a not-for-profit 501(c)3 organization dedicated to opening a new frontier of space exploration and protecting Earth from potentially devastating impacts by asteroids. B612 is the name of the asteroid home of the Little Prince, the hero of Antoine de Saint-Exupery's novela, Le Petit Prince".[2]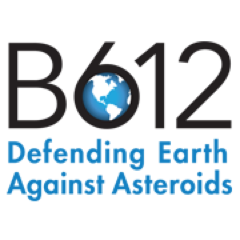 [1] "Starting the mission" B612 Foundation. https://b612foundation.org/our-story/.
[2] "FAQ". B612 Foundation. https://b612foundation.org/wp-content/uploads/2013/04/FAQ-FINAL-5.30.13-1.pdf.