Archive for the 'Transportation' Category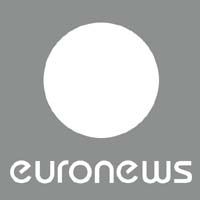 Europe's big freeze has deepened. Fresh snowfalls have swept across parts of the continent, the number of deaths has risen. Authorities in Serbia say three more people have died while a further 8 have lost their lives in Romania taking the total there to 65. Army police and firefighters were attempting to clear routes to distribute food and water to thousands who were cut off in this latest white deluge.
Global warming or climate change at its best . . . While Europe is freezing as a result of the influx of Siberian weather fronts, on the other side of the planet quite the reverse is taking place, as documented by the YouTuber and blogger uspimpclub: 'Unprecedented warmth; Records smashed; 1st early Jan 60s ever in MN!
This is from the MN Climate Working Group and NWS today. "There has never been a 60 degree temperature recorded during the first week of January in Minnesota's modern climate record. The warmest temperature ever recorded in Minnesota during the first week of January is 59 degrees, occurring on January 7, 2003 in Amboy, MN. The warmest temperature ever recorded in Minnesota on January 5 is 57 degrees, recorded at Crookston in 1902. Reaching 60 degrees ANY time ANYWHERE in January is quite rare, occurring in only 10 years of the 120 year modern record. The all-time record high temperature for any day in January is 69 degrees, occurring January 24, 1981 in Montevideo." Many locations not only broke records Thursday, but smashed them by more than 10 degrees! (9 Jan 2012)'.

Much of the United States has been enjoying unseasonably warm weather, and it has many people asking whatever happened to winter? NBC's Ann Thompson looks at the "why" behind the wacky winter weather.
(1 Feb 2012)
Meanwhile, in the Old World, as reported by the Voice of America: a 'brutal cold front blamed for hundreds of deaths across Europe is threatening to linger even longer. High winds whipped across Russia's Krasnodar region Wednesday [, 8 Feb], churning water in the port city of Novorossiysk, tearing apart buildings and causing some roofs to collapse.  Heavy snow also blanketed the Georgian capital of Tbilisi, freezing roads and lakes. Officials say the death toll across Europe has now climbed to more than 400 people, with new fatalities being reported in central and Eastern Europe.  The French news agency said Russian officials on Wednesday raised their death toll to more than 100, with 44 new deaths blamed on the cold since the start of the month. As parts of Europe issue emergency declarations, forecasters warn it could be several weeks before the vicious cold snap departs. Omar Baddour with the World Meteorological Organization said he expects the sub-zero temperatures to start warming next week. Baddour added it could take until the end of the month for Europe to see a significant change. Hundreds of villages, and tens of thousands of people, have been cut off from supplies as snow continues to pile up. Ice has also been a problem, clogging rivers and shutting down key ports. The French news agency said Bosnian authorities started using helicopters to carry needed supplies to isolated hamlets near Mostar and Kalinovic. Italy has also been hit with heavy snow and at the Vatican Wednesday, Pope Benedict prayed for victims of the bitter cold'.[1]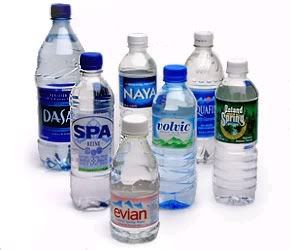 The Story-of-Stuff Lady, Annie Leonard takes on the thorny issue of bottled water,[1] in the below clip: 'The Story of Bottled Water, released on March 22, 2010 (World Water Day) employs the Story of Stuff style to tell the story of manufactured demand—how you get Americans to buy more than half a billion bottles of water every week when it already flows from the tap. Over five minutes, the film explores the bottled water industry's attacks on tap water and its use of seductive, environmental-themed advertising to cover up the mountains of plastic waste it produces. The film concludes with a call to take back the tap, not only by making a personal commitment to avoid bottled water, but by supporting investments in clean, available tap water for all. Our production partners on the bottled water film include five leading sustainability groups: Corporate Accountability International, Environmental Working Group, Food & Water Watch, Pacific Institute, and Polaris Institute'.
That was then, meaning 2010, but this is now, in other words 2011 on its way to 2012: 'The United States isn't broke; we're the richest country on the planet and a country in which the richest among us are doing exceptionally well. But the truth is, our economy is broken, producing more pollution, greenhouse gasses and garbage than any other country. In these and so many other ways, it just isn't working. But rather than invest in something better, we continue to keep this 'dinosaur economy' on life support with hundreds of billions of dollars of our tax money. The Story of Broke calls for a shift in government spending toward investments in clean, green solutions—renewable energy, safer chemicals and materials, zero waste and more—that can deliver jobs AND a healthier environment. It's time to rebuild the American Dream; but this time, let's build it better'.
The 20th century was the American Century, we are told, and the 21st will be the Chinese, rumour has it . . . but staying in the U.S. and ignoring the Chinese-owned American debt, Annie Leonard emphatically declares that "We're not really broke—our public money has just been hijacked. Our new film, The Story of Broke, shines a light on the dumb choices our elected so-called leaders are making with our money: handing out tax breaks for oil companies reaping record profits; paving public roads that only go to one place—a new Walmart; granting permits to mine public lands at prices set in 1872; cleaning up toxic messes made by giant chemical companies; and offering public funds for corporations building nuclear reactors and other risky ventures. Here's how it's supposed to work in a democracy: Every year, you and I pitch some of our money into the shared public account. Our government is supposed to use this money for the public good: public safety, education, environmental protection, and helping those in need. Some public money also gets used to help businesses—to encourage job creation or spur technological innovation, for instance. I'm all for the government using some of my money to help businesses grow and innovate – as long as I and my fellow citizens also benefit. Unfortunately that's not always what happens. And we usually don't see it happening because most of the handouts take the form of hidden subsidies – tax breaks, government contracts, access to public land and water. If a member of Congress came to your house and asked for money to build a garbage incinerator in a low-income neighborhood, to mine uranium near the Colorado River, or boost the balance sheet of an oil company that just posted record profits, you'd tell him to get off your lawn.  But thousands of lobbyists in Washington and billons in campaign contributions keep the subsidies flowing – and hold America back from the sustainable economy of the future. So as we balance our personal bank accounts each month, let's remember that there's a whole other pot of money we're responsible for as well. It's both our right and our responsibility to help determine how that money is spent and we should be making sure it's helping build a better world. We know that a better future is possible—that we can make Stuff in ways that are safe and healthy and fair. We know that clean energy and non-toxic chemicals exist. Better alternatives have been around for decades. It's high time we gave a leg up to the kinds of cleaner, healthier industries we need for the century ahead. It's time we put our money behind businesses that will help build a better future. That means stepping out of our consumer selves and occupying our citizen selves. It means reminding ourselves and our governments of the power we have when we unite as citizens. That's why what was happening in Oakland and other cities last week was so exciting. Because together, getting out of the shopping mall and into the streets, we do have real power to make a better future. And we have enough money to get started right now".[2]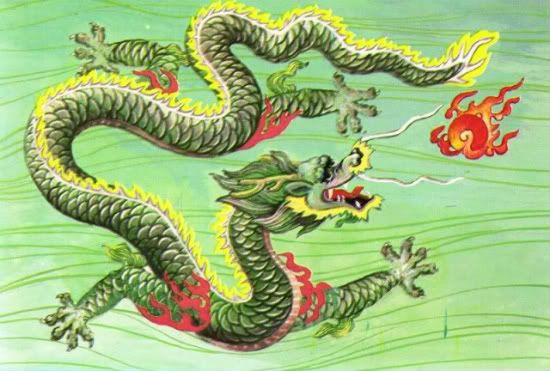 In fact, turns out, as explained by Business Insider's Vincent Trivett, it is not really the Chinese who are holding the great bulk of U.S. debt: 'Hong Kong, Caribbean Banking Centers, Taiwan, Brazil, Oil Exporting Countries (OPEC), Mutual Funds, Commercial Banks, State, Local, and Federal Retirement Funds, Money Market Mutual Funds, the UK, Private Pension Funds, State and Local Governments, Japan, U.S. households, China, The Federal ieserve, Social Security Trust Fund', and he ends his survey by stating that "[i]n all, the Treasury owes foreigners and foreign governments $4.514 trillion dollars . . . But [, that] Americans own most of their own country's $14,342,909,569,328.74 of debt".[3]  Trivett points out that the Chinese own but 8% of the U.S. debt burden.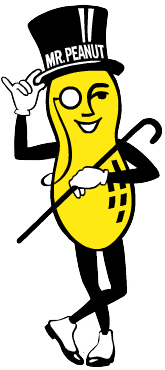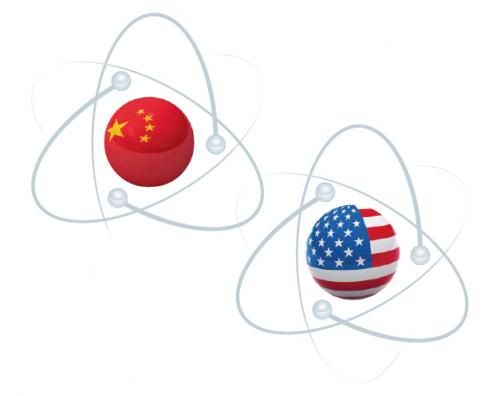 Here is an educational video made by the Georgetown University, Washington DC, for the "Arms Control Seminar", describing China's "Underground Great Wall" tunnel network, which plays an important role in China's nuclear deterrence capability by enabling China to have a survivable second strike ability, while simultaniously masking the true number of China's nuclear arsenal. By 2011, the "Underground Great Wall" is reported to amass 3500 miles in total, hiding an estimated number of 2500 to 3000 nuclear warheads. The "Underground Great Wall" also hides underground production/enrichment facilities and nuclear reactors for additional warhead production.
The Lagos-based digital journalist John Thomas Didymus writes in the Digital Journal that a "group of students at the Georgetown University, working under Professor Phillip Karber, a former Pentagon strategist, have raised concerns after their study concluded China has a stockpile of nuclear weapons far larger than anybody ever suspected. According to the study report, the Chinese have an extensive network of tunnels which they call their "Underground Great Wall of China." The network of tunnels, running into thousands of miles, are used to hide China's ever growing stockpile of nuclear weapons. The Washington Post reports that although existence of the underground tunnels was known in the West, there was very little information about them. The U.S. students and their professor relied primarily on incidental Chinese sources. They worked on evidence collected from hundreds of translated Chinese documents, military journals, local news reports, military forums, syllabuses of Chinese military academies, online photos posted by private Chinese citizens, satellite imagery and online other data".[1]  In conjunction with recent reports that Russia is planning to deploy nuclear warheads in Kaliningrad in opposition to NATO's planned 'missile defense shield', and Tehran's announcement that Russia, China, and Iran are planning the construction of a complete missile defence system as well, this Georgetown report all but underlines that the New Cold War is heating up unbeknownst to the world's public opinion, still focused on the illusory enemy known only as Al Qaeda and on Islam as the civilisation to threaten the West's hegemony, as prescribed by Willy Claes in the early 1990s.[2]

Adding poignancy to his ominous words, Didymus asserts that "[e]stimates of China's nuclear warheads fall between 80 to 400. But the students and their professor claim that the "Underground Wall of China" hides a more massive and sophisticated nuclear arsenal than the U.S. or any other government suspects. According to Karber, judging from the scale of China's underground network of tunnels, China's nuclear warheads could be as many as 3,000", clarifying that the "students study group compiled a 363-page report which has not yet been published. Copies, however, have been read by top U.S. government officials in the Pentagon, and a Congressional hearing and meetings have been held over the Revelations of the report. The report, according to The Washington Post, is the most comprehensive body of information on the "Underground Great Wall of China." The Second Artillery Corp, which is responsible for digging and maintaining the tunnels, is also the arm of the People's Liberation Army responsible for deploying China's ballistic missiles and nuclear warheads".[3]  And in an effort to appear even-handed Didymus avows that "[s]ome experts have, however, raised questions on the research method of Professor karber and his students. Some critics say the Internet-based research, which went as far as draw evidence from a fictionalized TV docudrama about Chinese Artillery soldiers, is unorthodox and its conclusions questionable".[4]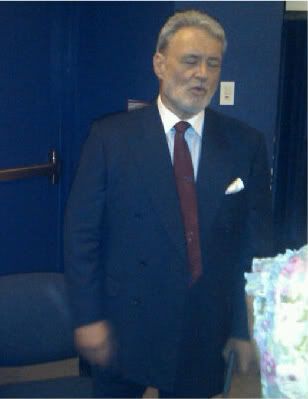 Karber's methods and conclusions may be "questionable", but the fact that the New Cold War is slowly gearing up seems incontrovertible. As voiced by Didymus, "biggest threat is that it may ignite an East-West nuclear arms race".[5]  Or, is this yet another chapter in Washington-sponsored fear-mongering???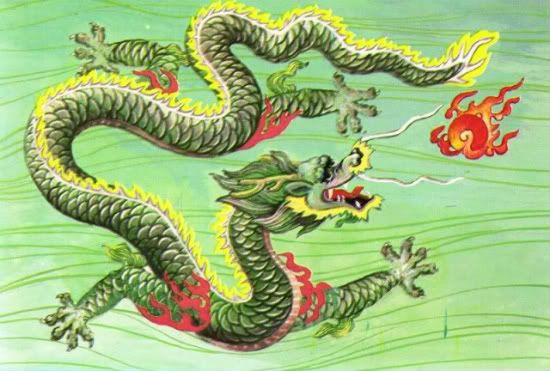 ---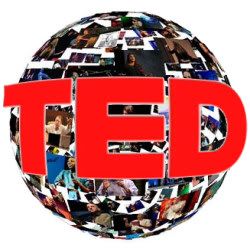 Phil Plait is an astronomer, author, and science advocate. His blog, Bad Astronomy, is hosted by Discover Magazine, and he writes about news and current issues facing science. A common topic is astronomical doomsday: ways mythical and real the world can end. He's fascinated by asteroid and comet impacts, and is a big supporter of finding, tracking, and ultimately deflecting any dangerous rocks heading our way. He spoke on this topic in Boulder on 11 October 2011.
Apophis is of concern, and the inimitable astrophycist Neil deGrasse Tyson has already spoken about this celestial body with great verve, conviction, and humour. On 19 February 2008, he expounded on Apophis, while visiting California.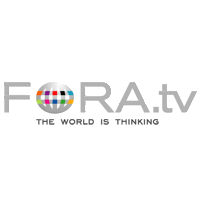 NASA's Near Earth Object Program optimistically proclaims that the 'future for Apophis on Friday, April 13 of 2029 includes an approach to Earth no closer than 29,470 km (18,300 miles, or 5.6 Earth radii from the center, or 4.6 Earth-radii from the surface) over the mid-Atlantic, appearing to the naked eye as a moderately bright point of light moving rapidly across the sky. Depending on its mechanical nature, it could experience shape or spin-state alteration due to tidal forces caused by Earth's gravity field. This is within the distance of Earth's geosynchronous satellites. However, because Apophis will pass interior to the positions of these satellites at closest approach, in a plane inclined at 40 degrees to the Earth's equator and passing outside the equatorial geosynchronous zone when crossing the equatorial plane, it does not threaten the satellites in that heavily populated region. Using criteria developed in this research, new measurements possible in 2013 (if not 2011) will likely confirm that in 2036 Apophis will quietly pass more than 49 million km (30.5 million miles; 0.32 AU) from Earth on Easter Sunday of that year (April 13)'.[1]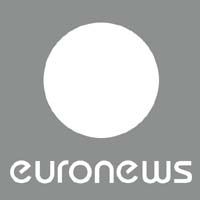 The Turkish prime minister has admitted that mistakes were made in the immediate aftermath of Sunday's earthquake. As thousands of victims in the mountainous eastern Van province queued to spend a fourth night in makeshift shelters, complaints were growing over the government's handling. Several relief lorries – 17 from one charity alone – have been looted, while the driver of another was beaten while its load was stolen. Some victims from the majority Kurd population have accused the authorities of ethnic discrimination.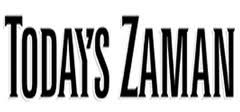 And the pro-government Today's Zaman has even reported that the 'Turkish President Abdullah Gül has delayed a visit he planned to pay to the city of Van on Friday [, 28 October] at the request of local authorities, who said his visit would negatively affect ongoing relief efforts. Paying heed to the request of local authorities, the Anatolia news agency reported on Thursday [, 27 October] that Gül has decided to delay his visit to a later date. Turkish officials say the death toll from Sunday's earthquake has gone up to 534. The prime minister's center for crisis and emergency management said on Thursday 1,650 people were injured and 185 were rescued from the rubble. On Thursday, rain and snow compounded difficulties for the thousands rendered homeless in the earthquake'.[1]  In the New York Times, Şebnem Arsu writes that "[d]ozens of countries offered assistance almost ımmediately after Sunday's earthquake, but the government initially declined, saying it had sufficient resources. But as the level of need for shelter and supplies has become . . . clear, the government began reaching out", adding that even an "Israeli plane  delivered seven prefabricated houses and other supplies, NTV television reported, landing in Ankara, the capital, rather than a smaller airport nearer the hardest-hit area around the city of Van. Tents and more housing supplies arrived from Ukraine, France, and the United Nations. More supplies were expected from Japan, Azerbaijan, Kazakhstan, Ireland, England, and Russia".[2]  The Turkish news broadcaster NTV also reported that Azerbaijan, Iran, and Russia had already started delivering aid without Turkish requests or permission, a report replicated in the newspaper Zaman.[3]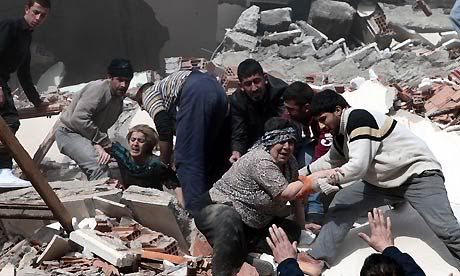 Reiterating the fallout of the Mavi Marmara massacre, Arsu adds that Turkey's "Foreign Ministry emphasized Turkey's appreciation for the Israeli assistance but reiterated that humanitarian gestures during a natural disaster would not affect strained relations. Turkey is demanding an official Israeli apology and compensation for the relatives of eight Turks and an American citizen of Turkish descent who were killed when Israeli commandos intercepted a Turkish aid flotilla attempting to break the
blockade of Gaza last year".[4]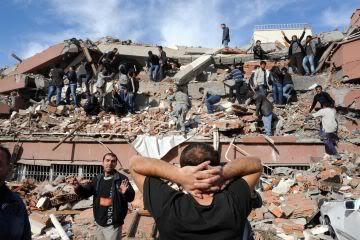 Not just Israel, but also Armenia is entering the fray, as reported by the AFP: 'Armenia is to airlift aid to Turkey to help survivors of the devastating earthquake despite decades of enmity between the two neighbours, officials said on Thursday [, 27 October]. An Armenian plane carrying 40 tonnes of emergency supplies including tents, sleeping bags and blankets was set to take off late Thursday, the emergency situations ministry in Yerevan said in a statement. The ministry said that Turkey had officially requested the aid from Armenia'.[5]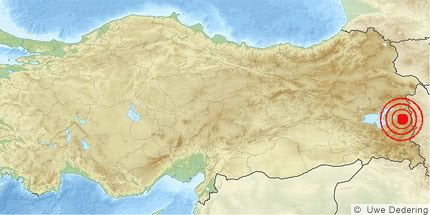 Amidst all this outpouring of neighbourly love and goodwill, the hard-nosed world of commerce does not sit still either. In the Asia Times Online Robert Cutler states that "negotiations between Azerbaijan and Turkey over natural gas deliveries have been successfully concluded, the Turkish government announced on October 26, a day after Azerbaijani President Ilham Aliev and Turkish Prime Minister Recep Tayyip Erdogan convened the first meeting of the Azerbaijan-Turkey High-Level Strategic Cooperation Council in Izmir. The negotiations had lasted almost two years. The question of gas quantities was not settled and will be discussed later, the Turkish newspaper Sabah reported, quoting Erdogan".[6]  Taking the Russo-Turkish rivalry into account,
and arguably also keeping Nabucco, the Trans-Balkan Pipeline and the Iran-Iraq-Syria project at the back of his mind, Cutler adds that "it is expected that Turkey, which already receives 6.6 billion cubic meters per year (bcm/y) of natural gas from Azerbaijan's offshore Shah Deniz One field, will add 6 bcm/y to that volume from Shah Deniz Two. This long-anticipated development was presaged also at the end of last month, when the Turkish energy firm BOTAS informed Russia's Gazprom that it would not  exercise an option to extend a contract for 6 bcm from Russia through the Blue Stream natural gas pipeline underneath the Black Sea between the two countries. Further discussion of quantities must now await the decision by the Shah Deniz consortium concerning that choice. British energy firm BP holds a 25.5% share of the Shah Deniz consortium and is its operator. Norway's Statoil also holds 25.5%. Other participants include Azerbaijan's SOCAR (10%), France's Total (10%), Iran's NICO (10%), and Turkey's TPAO (9%), and Russia's Lukoil (10%). The negotiations on gas deliveries had been given new impetus following a  summit meeting between Aliev and Erdogan in late July. Afterwards, diplomatic and industrial figures from both countries went on the public record to say, and to say repeatedly, that the agreement would soon be ready. Talks resumed in early August, three weeks before the date formally set for them to start again, following the instructions from the two leaders. The refinery is being  built by the State Oil Company of the Azerbaijani Republic (SOCAR) and the Turkish energy company Turcas Petrol, at a cost of almost US$5 billion. It is Turkey's largest private sector investment and will create 10,000 construction jobs, according to the Turkish newspaper Hurriyet. It is planned that by 2015 the complex will include a refinery, an oil processing facility for almost 70 million barrels of oil, and a container terminal with integrated port and logistic area. Associated with it will be a technical and vocational school named after Heydar Aliev, leader of post-Soviet Azerbaijan from 1993 until his death in 2003 and father of the current president, where students will also receive training in the Azeri language, which is highly mutually intelligible with Turkish. Economists project that the complex will decrease Turkey's current account deficit by $2 billion, decreasing the country's imports of such products as jet fuel and naphtha. The Turkish newspaper Zaman, which is close to government circles, noted that the facility, to be called the Star Refinery, will not depend upon a single source. Rather a "flexible production process" would be able to handle the various grades of crude from Azerbaijan, Iran, Iraq (Kirkuk), and Russia (Urals blend)".[7]  It would appear that Turkey's future as an energy hub is all but secure . . .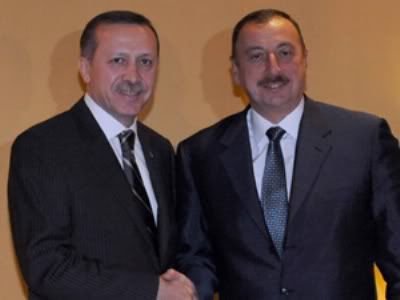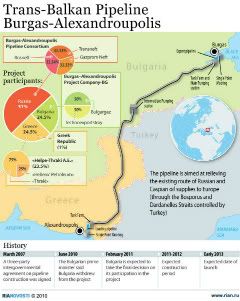 Quite some time ago, I wrote that "critics of Clinton's policies [regarding Kosovo] have [now] emerged indicating that the real reason behind the bombing campaign was the Trans-Balkan pipeline running from the Black Sea to the Albanian port of Vlore".[1]  But, in reality, the section of Pipelineistan traversing the European continent has evolved a rather different fashion: the 'Burgas-Alexandroupolis project was launched in implementation of the Agreement between the Government of the Russian Federation, the Government of the Republic of Bulgaria and the Government of the Hellenic Republic Relating to the Cooperation in the Construction and the Operation of the Burgas-Alexandroupolis Oil Pipeline. The priority goal of the Project is to create a new reliable and environmentally safe oil supply route for Europe, which will both help relieve the congested Bosporus and Dardanelles straits and increase European energy security. The implementation of the Project will create a new transportation route for shipping Russian and Caspian origin crude oil by tankers from Russian Black sea ports to the port of Burgas (Bulgaria), and then via the pipeline to the port of Alexandroupolis (Greece) with further loading onto tankers and delivery to the European and world markets. The Company is intent on developing a project which meets the requirements both of the authorities and stakeholders. Based on the Public and Authorities consultations in both Countries, considering current situation in both locations and environmental terms and conditions the Project envisaged two alternative unloading options for Bulgaria and Greece: a conventional jetty in Burgas Bay located next to the existing oil terminal and a modern single-point mooring installations (SPM) in Greece. The approximate total length of the Burgas-Alexandroupolis pipeline route is about 300 km'.[2]  The oil is set to start flowing towards the Mediterranean in 2013 . . .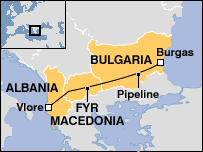 The new and improved pipeline not only bypasses Kosovo and Albania, it also leaves the giant military facility at Camp Bondsteel high and dry. At the end of 2004, the BBC still reported that 'Albania, Bulgaria and Macedonia have given the go ahead for the construction of a $1.2bn oil pipeline that will pass through the Balkan peninsula. The project aims to allow alternative ports for the shipping of Russian and Caspian oil, that normally goes through the Bosphorus straits'.[3]  This project, first conceived in 1994,  would have passed through Kosovo and would thus have added weight to the conspiracy theorists arguing that Clinton's 1999 Kosovo campaign had been more about oil prerogatives than human rights. At the time, General Michael Jackson, commander of KFOR in Macedonia, came out with this statement: "Today, it is absolutely necessary to guarantee the stability of Macedonia and its entry into NATO. But we will certainly remain here a long time so that we can also guarantee the security of the energy corridors which traverse this country".[4]  Today however, these "energy corridors" have not materialised, leaving Camp Bondsteel on its own. On the other hand, another Agreement was reached on 15 March 2007 and signed in Athens by the parties involved – the Russian Federation, the Republic of Bulgaria, and the Hellenic Republic (colloquially known as Greece). This deal has thrown this whole earlier scheme off-course. The original deal would have benefited such players as ChevronTexaco, Exxon Mobil and British Petroleum. The 2007 Agreement  indicates that the parties involved are "striving to create a reliable and efficient route for oil transportation designed to enhance the energy security of the European countries and to reduce environmental risks inherent to the increasing pressure placed on traditional routes of transportation of hydrocarbon and other resources in the region".[5]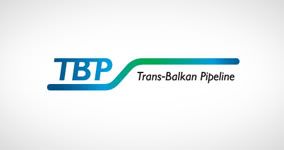 Putin's expected return in 2012 will all but seal and accelerate this Russian attempt to castrate poor  Nabucco.[6]  Whereas Iran's  attempt to service the Europeans seems equally shaky under current circumstances – the open hostility of the West towards Tehran and the Arab Awakening in Syria.[7]  Last summer this item appeared in the press: 'A joint general meeting of the Shareholders and the Supervisory Board of Trans-Balkan Pipeline B.V. (ТВР) was held in Budapest (Hungary) on July 12, 2011. Vladislav Emelyanov, TBP CEO, Chairman of the Management Board reported to the Shareholders and Supervisory Board on the project status and the Company's financial standing. All of the Company's shareholders decided to continue the project and revise the Environmental and Social Impact Assessment (ESIA) according to the comments made by the Bulgarian Ministry of  Environment and Water and review the comments made on the ESIA'.[8]  Will this mean that Putin emerges  as the ultimate winner after all the fighting is done???  Will this really turn Nabucco into an irrelevant venture???  And how will Turkey react???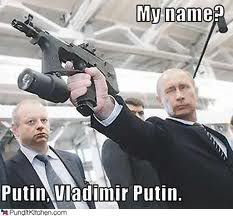 ---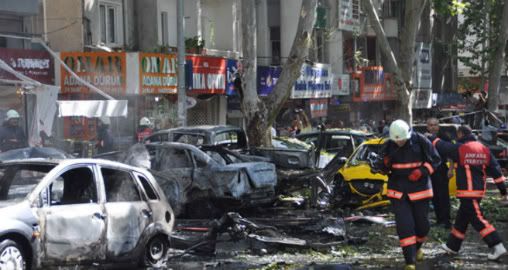 RT reports that a 'terrorist attack in the Turkish capital, Ankara, has killed at least three people and left 15 others injured on Tuesday [, 20 September]. An explosive-laden car detonated in the downtown area of the city, spreading fire around the vicinity. The blast reportedly occurred on a vehicle in front of the Çankaya local administrator's office close to Ankara's downtown Kızılay Square. Several other vehicles could be seen engulfed in flames in the capital following the explosion. A few vehicles were damaged and glass in the windows of several nearby buildings shattered. Police and firefighters cordoned off the site immediately after the explosion. Police feared a second explosion may occur after they had received a warning of two more explosive devices planted nearby and were searching for them, according to local press. A school which is located across the street was used as a first aid post'.[1]
Apparently, the main culprit regarding terrorist attacks in Turkey has already denied any involvement: the 'Kurdistan Workers Party (PKK) denied any responsibility for today's explosion in Ankara Çankaya district, close to several governmental buildings', as reported by Idris Abu Bakir from Sulaimaniyah in the KRG.[2]  Ahmet Deniz, a spokesman for the PKK, said: "We did not carry out today's bombing in Ankara. The PKK has nothing to do with it". In addition, Dozdas Hamo, the military commander of PKK's military wing HPG, stated categorically that "We only heard of this bombing in the media. We had no plans for such an explosion". [3]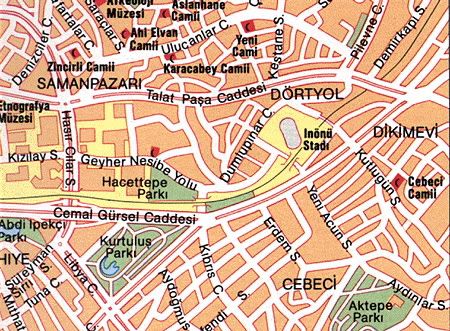 Still, the English-language Turkish daily Today's Zaman reports that '[p]olice are not ruling out the possibility that the blast may have been a terrorist attack carried out by the outlawed Kurdistan Workers' Party (PKK), which has recently stepped up its terrorist activities. The PKK, which has killed more than 50 people in the past few months, has been declared a terrorist organization by the international community, including the US and the EU'.[4]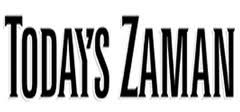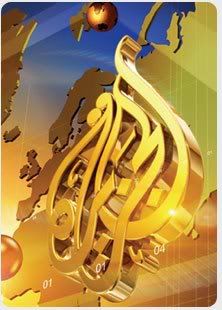 Reports emerge of military vehicles arriving in town of Agadez as Gaddafi stronghold of Bani Walid braces for attack. (5 September 2011).

The Reuters reports claims that the 'convoy contained between 200 and 250 Libyan military vehicles and included officers from Libya's southern army battalions, and likely crossed from Libya into Algeria before entering Niger, the sources said on condition of anonymity. The French military source said he had been told Muammar Gaddafi and his son Saif al-Islam might be considering joining the convoy en route to Burkina Faso, a landlocked West African state which has offered Gaddafi and his family asylum and has a border with Niger.Gaddafi's entourage has been hit by numerous high-profile defections, arrests and killings since an uprising that has effectively ended his 42-year rule of the country. The head of Muammar Gaddafi's security brigades, Mansour Dhao, along with more than 10 other Libyans, crossed into Niger on Sunday [, 4 September], two Niger officials said earlier on Monday. Dhao's departure comes days after Gaddafi's wife and three of his children fled to Algeria and fighters for the ruling National Transitional Council arrested his foreign minister outside Tripoli. The French military source said he had been told the commander of Libya's southern forces, General Ali Khana, may also be in Niger, not far from the Libyan border. He said he had been told that Gaddafi and his son Saif would join Khana and catch up with the convoy should they choose to accept Burkina Faso's offer of exile. Burkina Faso, a former recipient of large amounts of Libyan aid, offered Gaddafi exile about two weeks ago but has also recognized the rebel National Transitional Council (NTC) as Libya's government'.[1]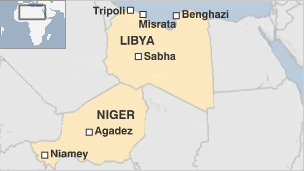 Oceans are rapidly becoming the world's rubbish dump. Every km of ocean now contains an average of 74,000 pieces of plastic. A 'plastic soup' of waste, killing hundreds of thousands of animals every year and leaching chemicals slowly up the food chain. In Holland, scientists researching the decline of the fulmar bird found plastic in the stomachs of 95% of all samples; In Germany, chemicals leached from plastic have been found to affect the reproductive systems of animals, while in California, conservationists are seeing increasing numbers of whales and dolphins die agonising deaths, their guts blocked with rubbish. What will be the long term impact of this 'plastic pollution'? Can anything be done to clean up our oceans?
YEAR: 2009 / DURATION: 52 MINS
/ Production Via Découvertes/Director: Sandrine Feydel/ Versions
available: English, French
Broadcasts include SVT,
VRT, SIC, Odisea, TG4, Inflight Ent, TV Globo, TV3, Pramer, Community Channel,
Z1, AVRO, ORF, Press TV, ERT, Al Jazeera, Landmark, RTTV, Creo Content,
iChannel and TVE
Previous Festival Screening
include The Prague Festival, the Thessaloniki Documentary Festival 2010 and the
Reykjavik International Film Festival
Awarded ERT 3 broadcasters
award at the Thessaloniki Documentary Festival
Awarded 'Best Environmental
Film' at the Prague Festival[1]
I was able to watch this eye-opening documentary on RT, and even though we all oppose plastic and society's dependence on oil in principle, this documentary also discloses just how human health is being endangered by the ubiquitous presence of plastic in our lives, thereby giving us yet another reason to be concerned . . . This Java Films documentary should be compulsory viewing in schools, factories and municipalities the world over.